From Phong Nha north began what was probably the most off the beaten path part of my journey. From from Phong Nha until Hanoi, there weren't many popular tourist destinations—that stretch is often traveled by an overnight bus. I was excited to see what it had in store. My first stop along the way was a beach town called Cua Lo, a few miles away from a larger city called Vinh. There really isn't much in either place for tourists, and the results on Trip Advisor and Hostelworld in this region came up empty. So when I arrived in Cua Lo in the early evening I set about walking around town, trying to find a decent rate on a decent room.
More than anywhere I'd been before people were surprised to see a western tourist. People would wave, and one group of men gestured for me to sit with them, so I sat for fifteen minutes, taking a few shots with them and eating some kind of strange wet peanuts. One of the men tried to speak English, but I couldn't understand him and I shook my head and smiled, indicating I had no idea what he was saying. His friends laughed.
At night I went into town trying to find a place to eat. It had been pouring rain that evening with strong thunder and lightning. I thought I had found a decently reviewed place, but it was raining so hard that I had to give up early and I went to the first restaurant I could find. I ate some fried rice there but the rain was just too torrential to leave once I was done. Two of the guys who worked there were about my age, and they gestured to pull up a chair and sit with them as they smoked their tobacco pipe and watched the rain flood the street.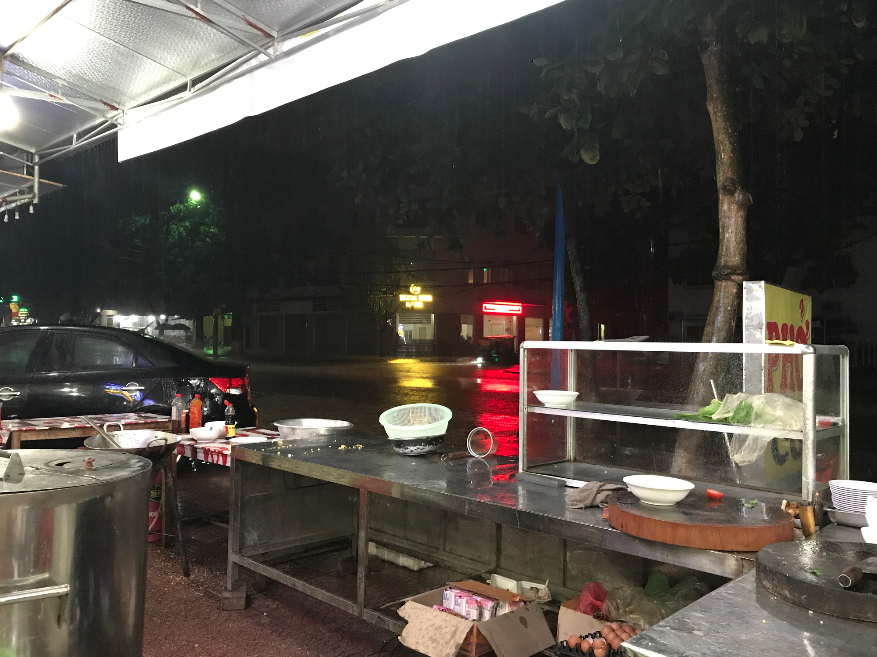 The three of us did our best over the next hour to communicate through Google translate. We continued to talk as the rain poured outside. The amount we were able to learn about each other was pretty remarkable, all facilitated by technology. I worked on Machine Translation at Etsy, and it was a good reminder of why the technology is so valuable.
It was a lovely night but as it grew longer, I realized the rain wasn't going to stop, so I said my goodbyes and headed off through the knee-deep puddles and pouring rain back to my hotel.
The next morning I was happy to be on my way again, heading north to Moc Chau, another city I knew very little about.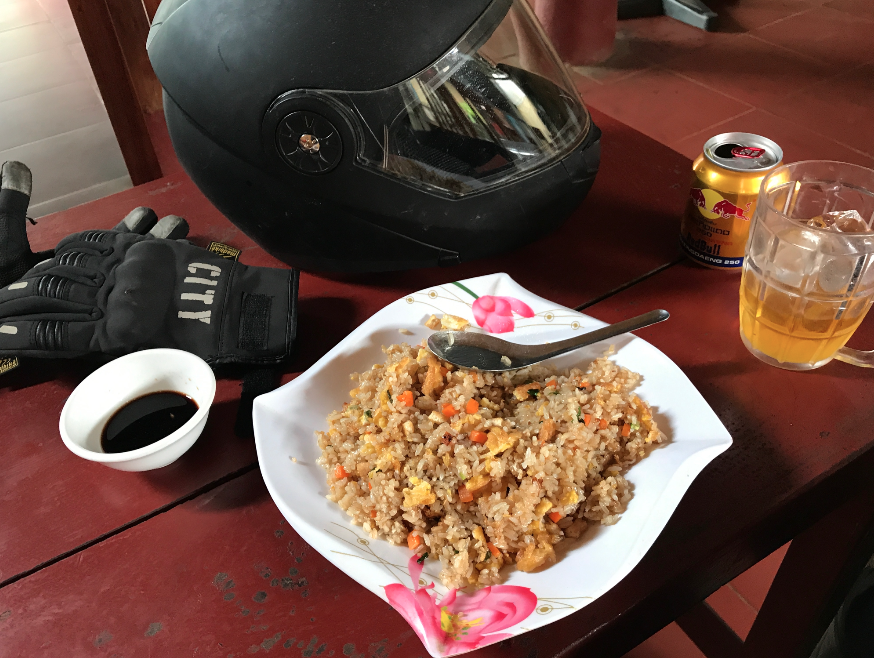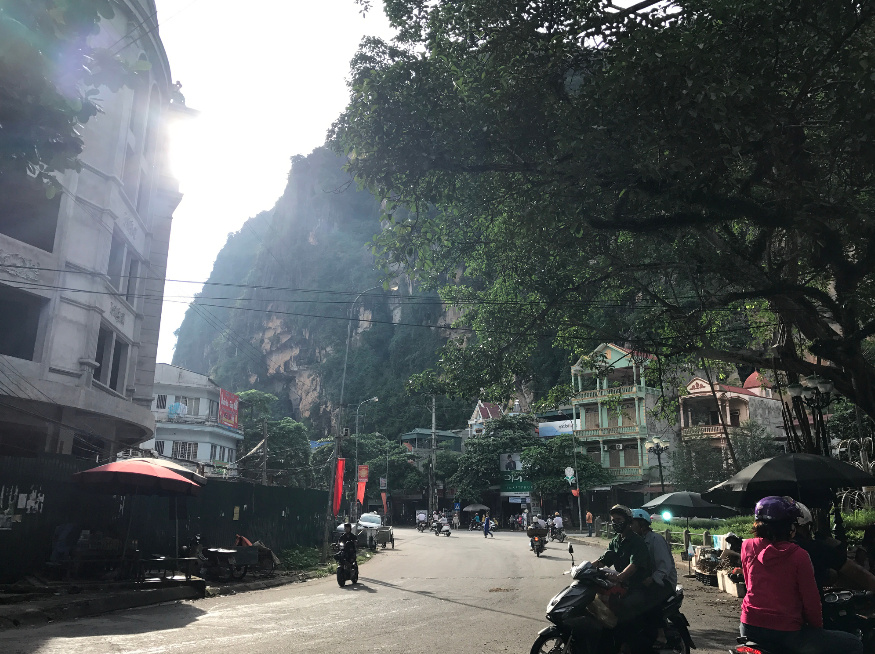 By this point I was on route to Sapa, a place I had heard great things about from so many people, including Joe, who had been there a week and a half before. I originally wasn't planning to visit Sapa because it would add around 700 miles to the overall trip, but by this point I was happy to ride for long stretches, and I came to enjoy riding for a meditative seven or eight hours in a day.
I arrived in the early evening in Moc Chau.
I spent a good part of the next day relaxing, but left in the afternoon to explore the area.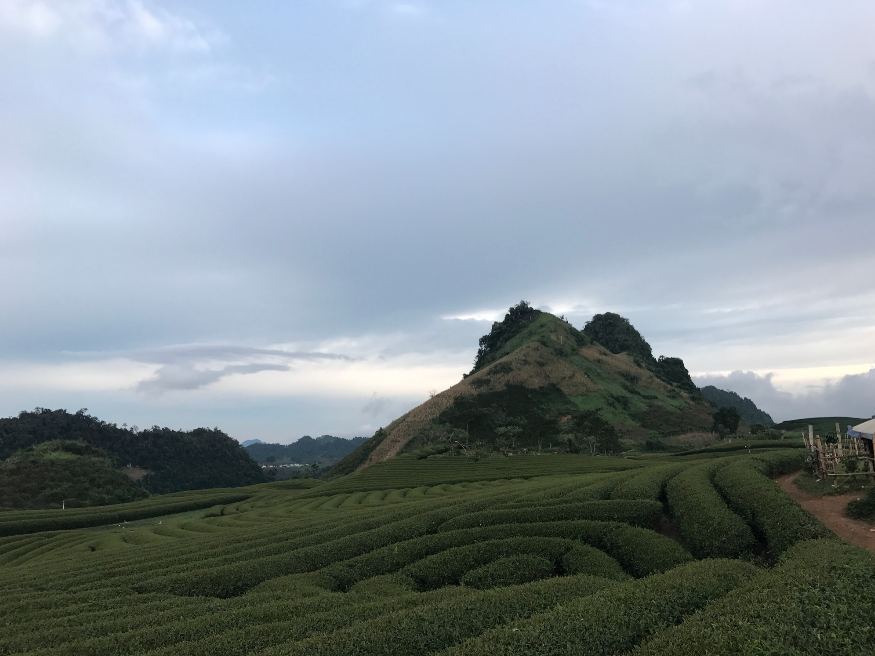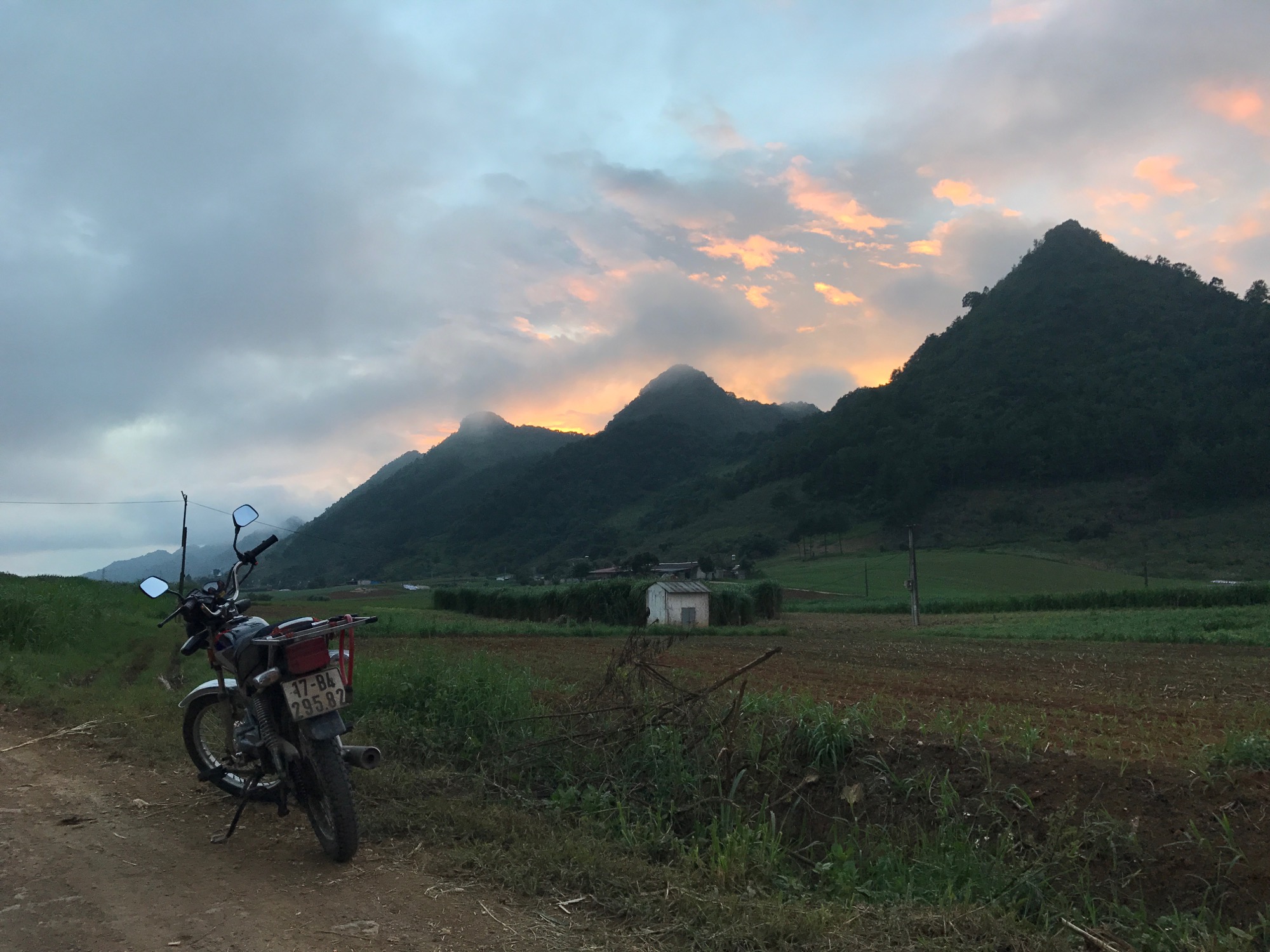 At night, I was looking for a place to eat when I saw a Manchester United game playing on a TV in a restaurant near where I was staying. Ordering at the restaurant was a challenge, though. The restaurant was oriented around hot pots and grills in the center of the table, defying the limited food vocabulary I had picked up along the way. While I was struggling to order, a Vietnamese girl around my age came up and asked if she could help.  She started helping me order before suggesting instead that I join her at a table with two of her friends. I readily accepted.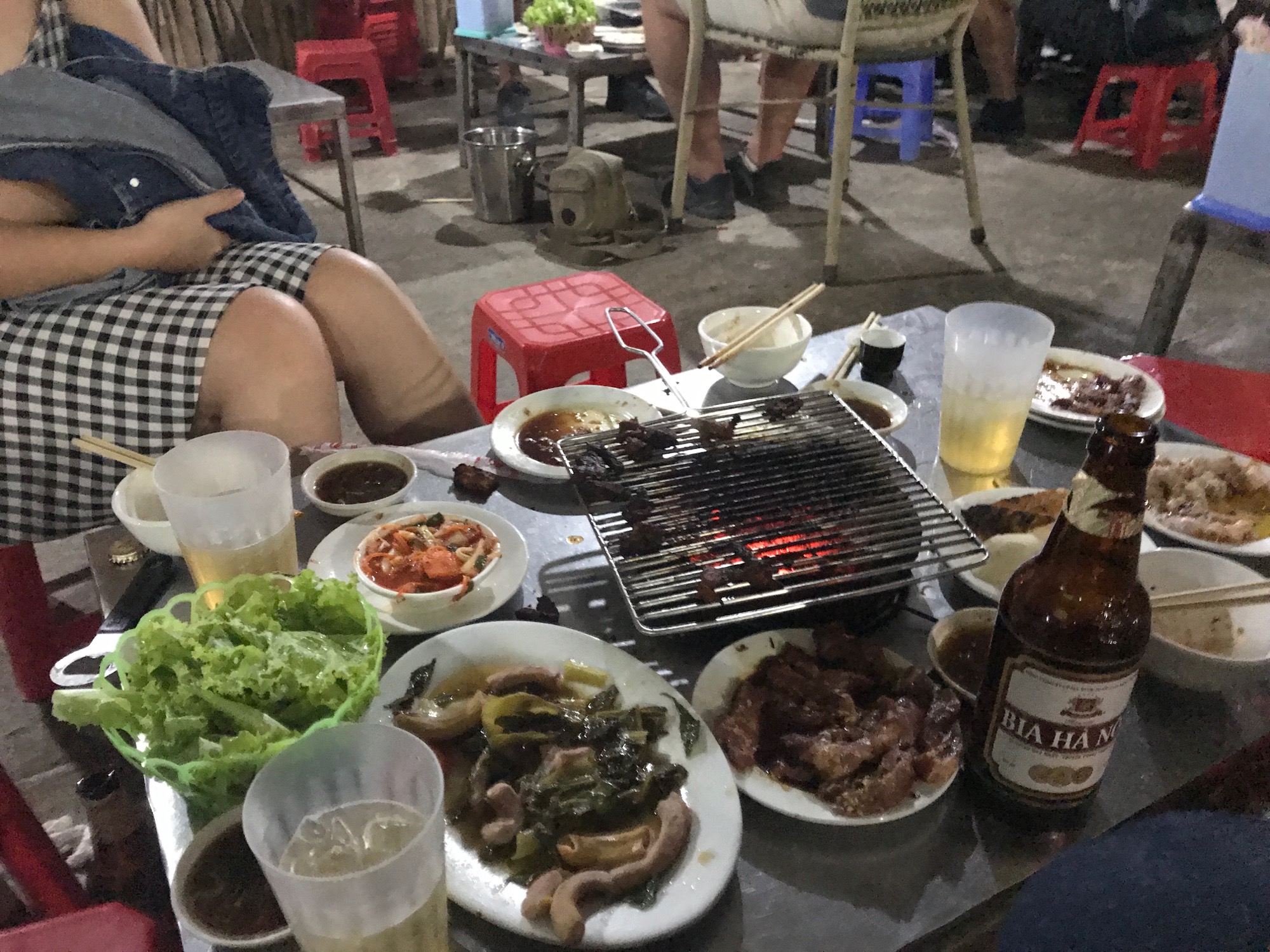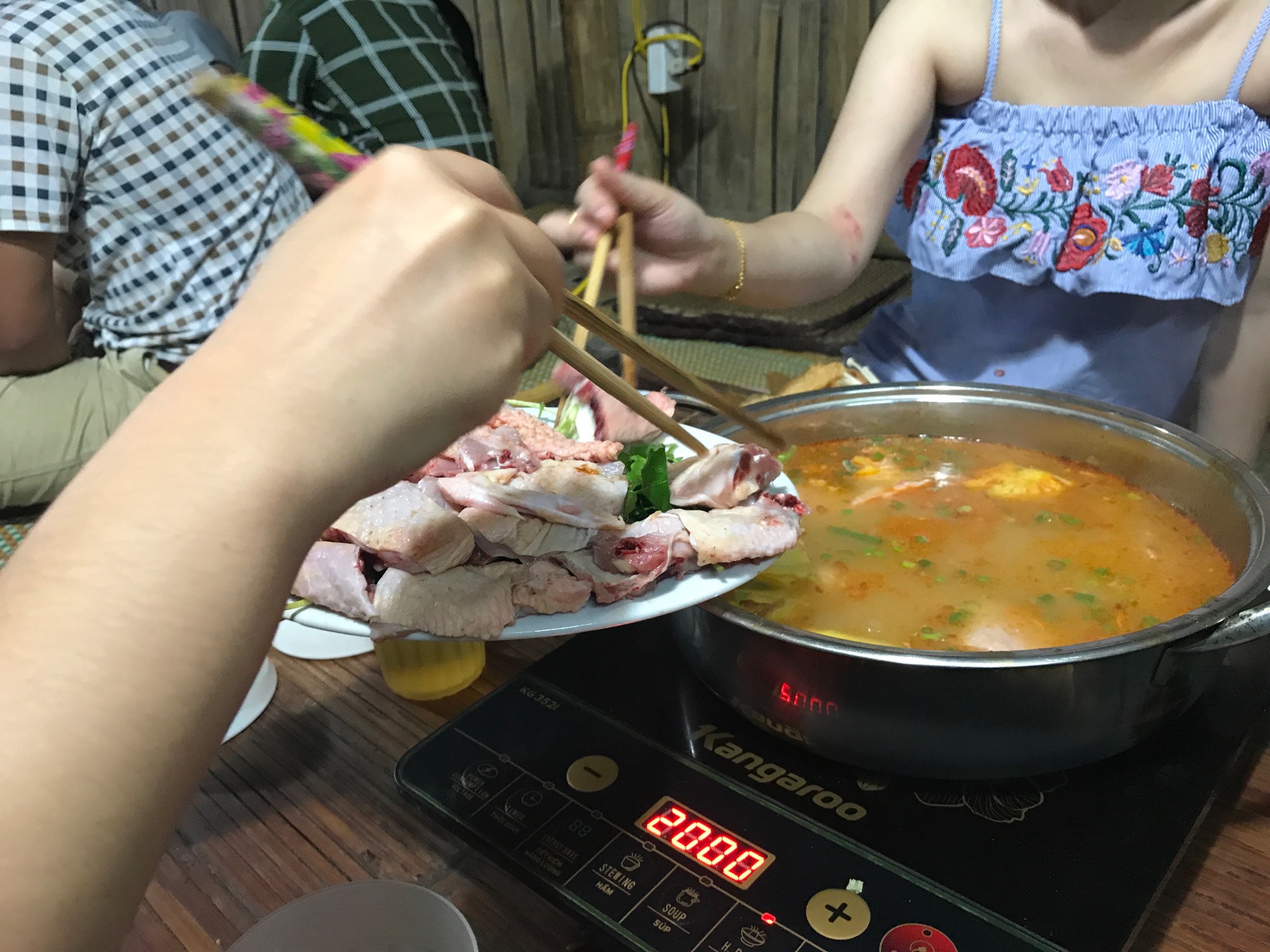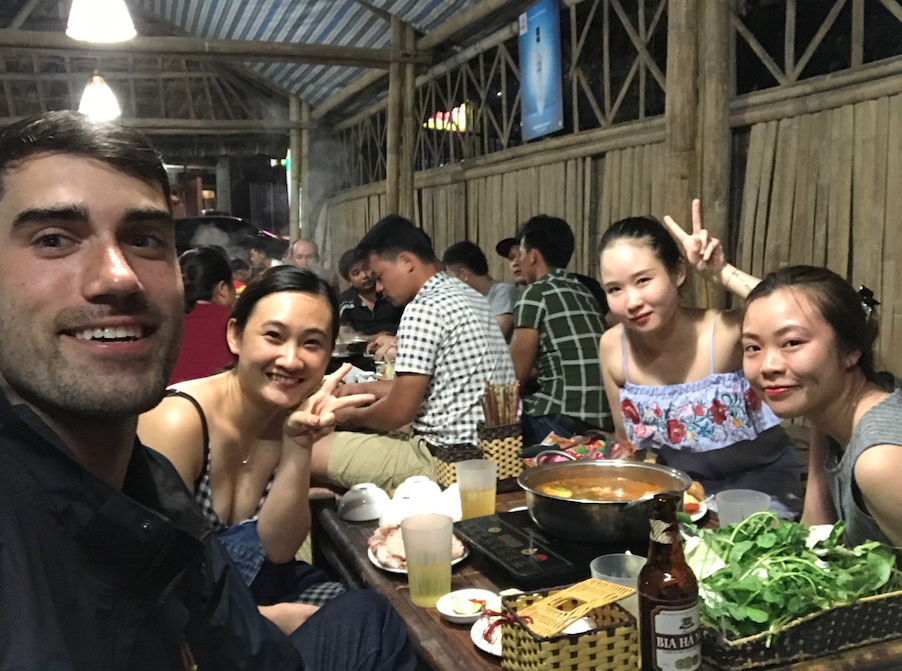 It was wonderful to finally meet some locals. Fewer people spoke English in Vietnam than anywhere else along the journey, making it hard to have full conversations with folks other than tourists. Hearing about their lives in Vietnam was great, and we feasted for an hour and a half before saying our goodbyes.